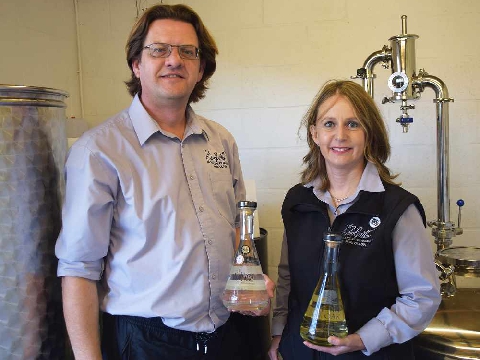 OakVilla Distillery has only been in business since February 2018 (South Norfolk Council).
For the second year in a row, OakVilla Distillery have been recognised in the International Wine and Spirit Competition (IWSC).
They have won a silver award for their trade-marked Vryheid Gin, and they also picked up bronze in the Gin & Double Dutch Tonic Award.
Owner of the family-run business, Lindi Hancke, said: "The IWSC is the Oscars of the wine and spirit industry and we are over the moon to be bringing these fantastic awards home to Wymondham."
Her husband and business partner, Shaun Hancke, said: "We were absolutely delighted to win. As a small-batch craft gin distillery, we weren't expecting it, as the competition has become much more competitive and scoring has been adapted by the IWSC to reflect the crowded market."
The OakVilla Distillery has only been operating since February 2018, and is a big change to their day jobs in accountancy and procurement.
They will be presented with the awards, which are considered to be one of the highest honours in the industry, at the Guildhall in London.
Vryheid Gin is sold at independent wine merchants and available at prestigious hotels, restaurants and pubs around Norfolk.