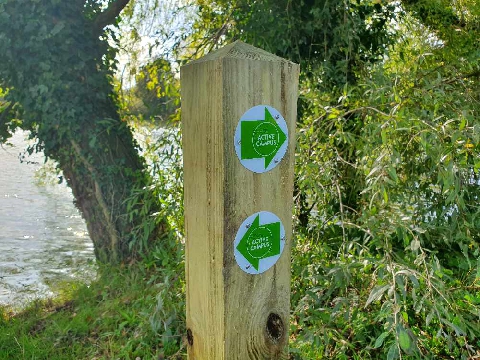 The University of East Anglia has launched the first of a series of signposted trails around the campus grounds as part of efforts to improve local people's mental and physical wellbeing.
Staff, students and the local community are being invited to make the most of the paths which take in the university's 360-acre campus.
Thousands of people already use the UEA's grounds for a stroll, to walk their dogs, and to get out and run each year.
The new route launched on Wednesday 9th October is called the 'ecology and nature trail' and explores areas home to around 5,790 different species of plant and animal, including 127 which are endagered.
Each waymarked route will cover a variety of distances and takes in different sights and sounds all while linking up Earlham Park to areas of the campus like the rose garden, rockery and the Sainsbury Centre's sculpture trail.
Adam Garford, who's Head of Sport and Physical Activity Development at the UEA, said: "We're extremely lucky to have a beautiful campus with wide open spaces, forest area, a river and even our very own broad.
"As a University we've never had any formal route before and we hope this will not only inspire staff and students, but also local people in Norwich and beyond."
The trails have been launched following a recent survey of students and staff which revealed that one in three people wanted more walking and running routes marked around campus.
Third year psychology student, Shakila Binte Omar, said: "I'm someone that appreciates having time to myself amidst a very active and busy lifestyle and walking is a great way for me to tune out and find 'calm in the crazy'.
"Although the UEA campus is a very concrete structure, it is nestled amongst beautiful nature and being able to take movement breaks within this space between my hectic schedule is brilliant."
The introduction of the routes on campus are down to the active campus steering group which aims to promote the wellbeing of the UEA community through physical activity and sporting initiatives.
UEA's Dr Sarah Hanson, who is an expert in the benefits of walking, said: "Walking in green spaces is one of the 'best buys' in terms of helping your mental and physical health.
"It is especially good if you walk with others, helping with the social isolation that people of all ages are increasingly feeling."
You can have a look at the new 'ecology and nature' trail for yourself in the video below:
The waymarked trails are being created by Norfolk County Council.
Councillor Andrew Jamieson, who's the council's champion for cycling and walking, said: "We're so pleased to have been involved in creating these trails which will help open-up the wonderful range of historical and wildlife rich spaces close to the campus by making them more accessible for the first time.
"This is a very worthwhile project which I hope will be enjoyed by people who live, work and study nearby for many years to come."
The routes link up to the Strava app and organisers hope to track the route's popularity through motion sensors, to inform the development of more physical activity facilities on campus.
The pathways are accesible for people on campus as well as the general public.
All five of the routes are expected to be completed before Christmas.