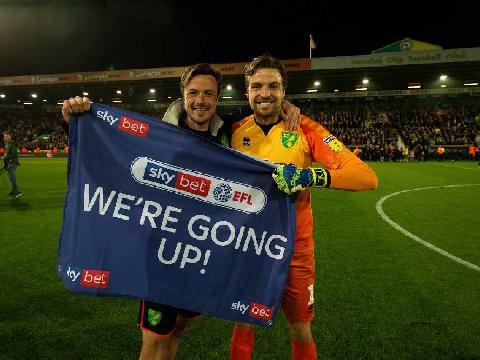 The Canaries were promoted to the top flight as champions (Norwich City)
Norwich City will play European Champions Liverpool on the opening day of the Premier League season.
They'll face last year's runners up in an 8pm kick-off at Anfield on Friday 9th August - in the very first match of the season.
Its the toughest possible start for Daniel Farke, who will come up against compatriot Jurgen Klopp in the opposite dugout.
The fixture will also pose a challenge for travelling City fans, who will have to work out how to get back from Merseyside late on a Friday night.
The Canaries' first home match is the following weekend - the 17th August - a 3pm kick-off against Newcastle United.
And they'll end the season with another incredibly hard away fixture, at reigning champions Manchester City. That is scheduled for 3pm on Sunday 17th May 202.
Full fixture list:
Fri Aug 9 Liverpool (A)
Sat Aug 17 Newcastle United (H)
Sat Aug 24 Chelsea (H)
Sat Aug 31 West Ham United (A)
Sat Sep 14 Manchester City (H)
Sat Sep 21 Burnley (A)
Sat Sep 28 Crystal Palace (A)
Sat Oct 5 Aston Villa (H)
Sat Oct 19 AFC Bournemouth (A)
Sat Oct 26 Manchester United (H)
Sat Nov 2 Brighton and Hove Albion (A)
Sat Nov 9 Watford (H)
Sat Nov 23 Everton (A)
Sat Nov 30 Arsenal (H)
Wed Dec 4 Southampton (A)
Sat Dec 7 Sheffield United (H)
Sat Dec 14 Leicester City (A)
Sat Dec 21 Wolverhampton Wanderers (H)
Thu Dec 26 Aston Villa (A)
Sat Dec 28 Tottenham Hotspur (H)
Wed Jan 1 Crystal Palace (H)
Sat Jan 11 Manchester United (A)
Sat Jan 18 AFC Bournemouth (H)
Wed Jan 22 Tottenham Hotspur (A)
Sat Feb 1 Newcastle United (A)
Sat Feb 8 Liverpool (H)
Sat Feb 22 Wolverhampton Wanderers (A)
Sat Feb 29 Leicester City (H)
Sat Mar 7 Sheffield United (A)
Sat Mar 14 Southampton (H)
Sat Mar 21 Everton (H)
Sat Apr 4 Arsenal (A)
Sat Apr 11 Brighton and Hove Albion (H)
Sat Apr 18 Watford (A)
Sat Apr 25 West Ham United (H)
Sat May 2 Chelsea (A)
Sat May 9 Burnley (H)
Sun May 17 Manchester City (A)