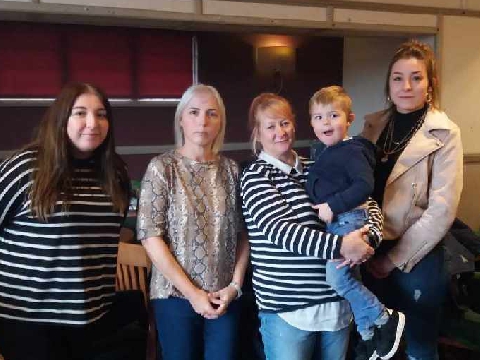 Staff members from School Lane pre-school with former pupil Kobie and his mother Rioni.
Parents were left shocked and saddened after the School Lane pre-school in Sprowston shut it's doors for good on Friday afternoon.
Parents were given no forewarning of the closure, with some even turning up on Monday morning to drop their children off, finding a note on the door from equally disappointed staff who came into work at 9am to make sure that parents were made aware.
The staff thanked the parents for all their support for the school and explained the closure was a sudden decision from the committee in charge.
Caroline Laskey, former manager and teacher at School Lane for the last 20 years, explained that staff had no idea what was going on when the schools committee chairman turned up on Friday afternoon.
She said: "We were told to clear out our lockers, get all the stuff we wanted, and when staff asked what we should do with uniforms we were told we could burn it if we wanted to".
Rioni Slater - a 26 year old mother of two boys who both attended the school - took to Facebook to explain how she found out her three year old's pre-school was gone.
She said: "I am absolutely devastated, just went to take my Kobie to school to find out that school lane pre-school has been closed down due to committee members.
"I can't thank the staff at School Lane enough for everything they have done for Kobie, without you we wouldn't have got the answers we desperately were seeking, Kobie has learnt so much sign language with you and is a complete different child to last year!
"I am absolutely heart broken, I don't even want to put him in another nursery as the staff won't be the same!".
She says that for her young son the nursery has been a godsend, allowing him to learn to express himself and develop at his own pace with the help of staff who have fought for him to have access to language and communication therapy.
Rioni now doesn't know what happens with the grant funding the school acquired for Kobie's therapy sessions.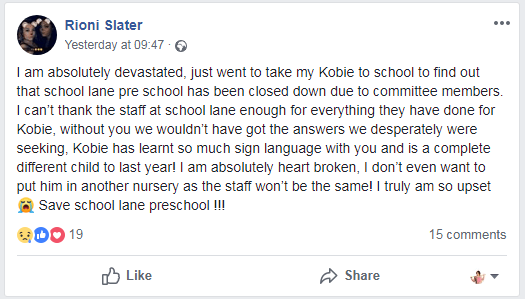 She said he may not have even been diagnosed yet if it wasn't for the "amazing staff who care about those kids like a friend would".
She's also spearheading an online campaign to reopen the school using the hashtag #saveourschool on Twitter.
She said: "Parents of children who attend the nursery have been left out in the cold, now having to find alternative nurseries for their children which can effect their jobs as well as changing their children's routine.
"Everyone's desperately scrambling to find nursery and pre-school places for their kids but there's no space anywhere, and even where there are spaces they're not in the catchment area".
Norfolk County Council are working to get all of the pupils set up in alternative nurseries, as soon as possible.
A council spokesperson said: "We will work closely with parents to help them find alternative provision for their children".
Parents and staff have formed a strong alliance with a plan to fight the committees decision in any way that they can, and are already in talks with Norfolk County Council, Ofsted and their unions.
In November last year the nursery was rated as 'requiring improvement' which was a decline on their 'good' rating they acquired on their previous inspection in 2015.
Yesterday (12th March 2019) the committee in charge of School Lane pre-school sent a letter to parents, stating that the closure would be permanent.
They wrote: "This decision was taken for several reasons, the main one being being due to the entire management committee stepping down.
"Without a committee, the charity cannot operate within the terms of the constitution, which leaves the pre-school without valid insurance to remain in operation".
They cited that due to their previous Ofsted rating it had been hard for them to recruit replacement committee members, for a job that requires active and committed volunteers to dedicate a lot of time.
Despite the news, parents and staff at the school are planning on fighting the decision and have banded together in the hopes of creating a new committee who could oversee the running of the pre-school.
School officials also stated within their letter what a new committee would mean: "If a new committee were to step forward, the setting would still need to remain closed for up to six months while the necessary checks were carried out by Ofsted.
"As a charity, the pre-school is not able to continue paying outgoings during this period while receiving no income".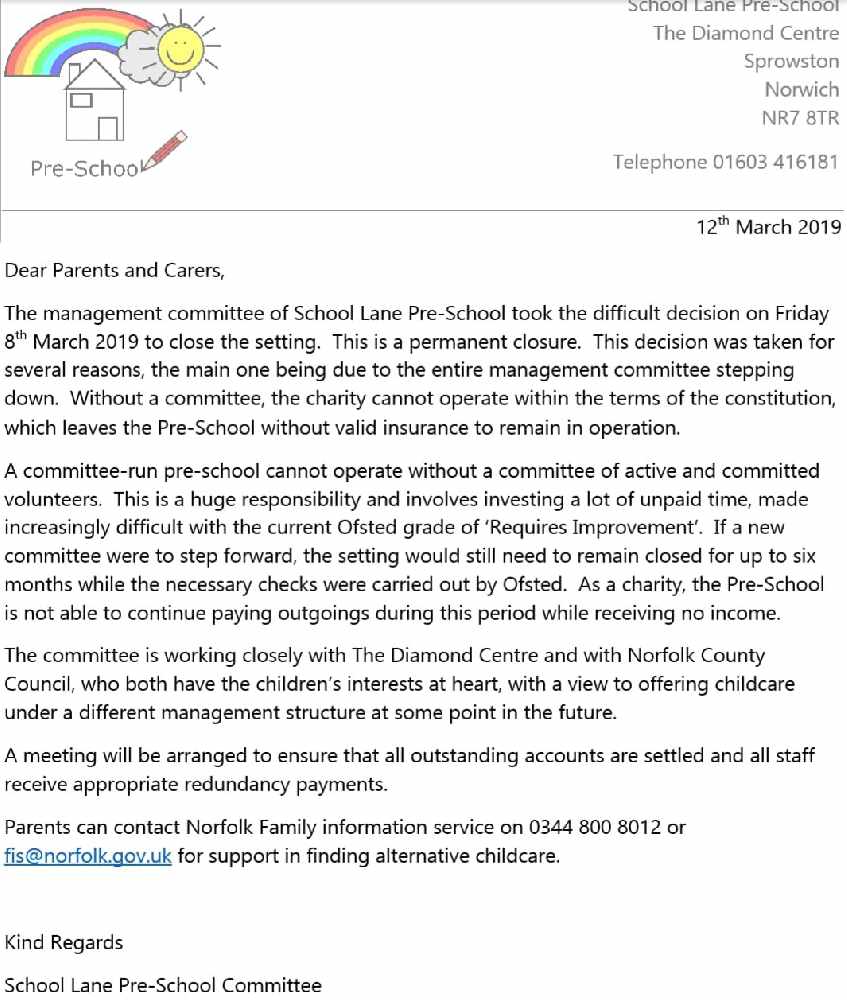 They are planning to hold a meeting with parents in the future, but no date has been set yet.
We contacted chairman of the committee but she declined to comment.