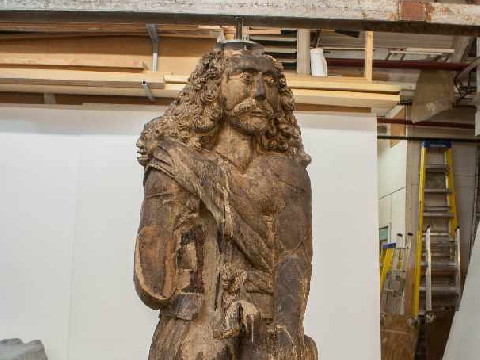 The Museum of Norwich at the Bridewell has launched a crowdfunding campaign, 'Saving Samson,' to raise the money needed to display the restored statue of Samson in the museum.   
The campaign aims to raise £15,000 in just six weeks to save Samson and provide him with a permanent display which will protect him to be a part of the city's heritage for future generations.
For almost 350 years, Samson stood guard outside one of Norwich's most prestigious buildings in the Tombland area of the city.
There, along with his partner figure Hercules, he witnessed two World Wars, a fire and the antics of lovers and party revellers from the 30's through to the 90's when the building was used as a ballroom and then nightclub.
Time, however, took its toll, eventually encasing him in layers of thick, white paint and obscuring the original carvings underneath.
Therefore in 1993, Samson along with Hercules were removed for safekeeping and to prevent any further damage.
In 2014, the statue of Samson was moved to the London studios of Plowden & Smith, where he has since undergone extensive conservation to remove over 60 layers of lead paint.
Over two decades later, the Museum of Norwich now wants to display the restored figure of Samson, putting him within the museum.
Jenny Canes is one of the curators at the museum:
The museum says it hopes that Samson will inspire many Norwich people and businesses to reflect on their memories of this cherished part of Norwich history and consider contributing to Saving Samson.
As a thank you, donors will be able to choose from a range of exclusive rewards.
Rewards include a set of postcards showing the Samson statue, a limited edition print by Leanda Jaine Illustrations, a Samson tote bag and two VIP experience days.
During the campaign museum curators will also be gathering stories from local people on what Samson means to them ranging from partygoers who frequented the nightclub to GI brides and to teenyboppers who saw Jason Donovan perform there.
To donate or find out more, go to: www.artfund.org/saving-samson