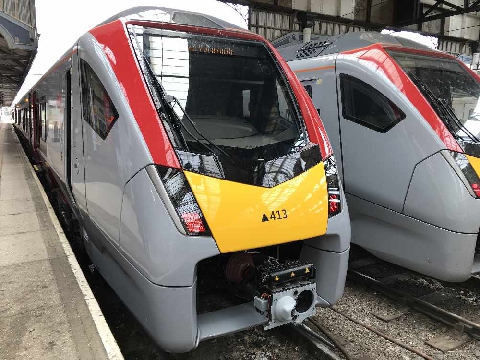 Photo credited to Arlen James
People in both Norfolk and Suffolk could benefit from plans for a new train line between Cambridge and Oxford.
Norfolk and Suffolk County Councils - alongside the East West Rail Consortium - are launching a new study, trying to increase the number of trains running between both Ipswich and Cambridge, and Norwich and Cambridge.
The proposed new trains could then provide a direct route between East Anglia and Oxford.
The results of the study will be submitted to central government, seeking funding for a new rail track.
Suffolk County Council's Councillor Nicoll said: "We are working with the East West Rail Consortium to understand whether we can improve capacity on the existing rail lines between Suffolk/Norfolk and Cambridge.
"We also want to understand whether we can achieve direct connectivity with Oxford rail services."
1/3. Delighted to announce today that we are moving ahead to complete the #EastWestRail Oxford to Cambridge #VarsityRail link @ewrconsortium

By boosting rail connectivity we can
🛤 improve rail connectivity
🌿reduce car congestion
🧬support the Ox/Cam Innovation Corridor: pic.twitter.com/D65UKAzSak

— George Freeman MP (@GeorgeFreemanMP) January 30, 2020
Last month, Grant Shapps MP - the Secretary of State for Transport - announced his preferred route for a new rail line between Cambridge and Bedford, forming the missing rail link between Cambridge and Oxford.
The East Anglia to Oxford line is expected to support job growth over the next 20 years.
Cllr Martin Wilby, Norfolk County Council's Cabinet Member for Highways and Infrastructure, said:
"A new east west rail line, connecting Cambridge to Oxford, will transform rail services, allowing people to get to places like Oxford, Bedford and Milton Keynes without having to go via London.
"The work being progressed by the East West Rail Consortium will set out the case for providing direct services to Norwich, meaning that travellers from the county wouldn't even have to change trains."
The East West Rail Consortium - which has campaigned for better East-West rain infrastructure since 1995 - includes local authorities from across East Anglia.
It says the rail study should be completed by the end of the year.