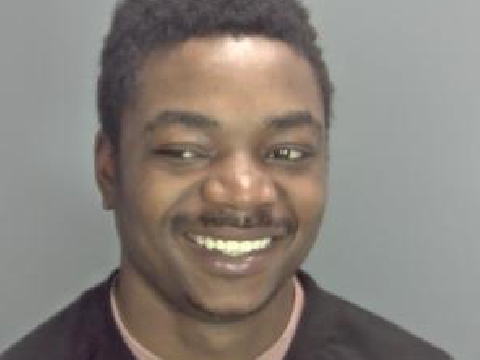 Jacques Kiwele
A 24 year-old man from Norwich has been sentenced to 12 and a half years in prison after threatening two groups of friends walking home from a night out with an imitation firearm.
Jacques Kiwele, who's from Waterloo Road, was sentenced after pleading guilty to offences including: wounding with intent, four counts of robbery, possession of an imitation firearm and assault.
It follows an incident in the early hours of Saturday 9th February.
Kiwele approached four friends as they walked from the city, he pulled a gun on them and hit two men with the weapon, fracturing the eye socket of one victim while the other suffered a cut to the head.
The group ran off and were chased by Kiwele for a short time before he stopped and headed into an alleyway leading towards Mill Lane, where he carried out his second attack.
A group of seven friends were walking home from the city when Kiwele approached and threatened them at gunpoint.
Four managed to run off while the other three were threatened and made to stand against a wall while Kiwele searched their pockets, stealing cash.
During the 20-minute incident, the victims were tormented and assaulted by Kiwele who pointed and hit the gun in their faces and pushing into the mouth of one, chipping his tooth.
Kiwele then fled the scene.
Detective Inspector Chris Burgess, from Norwich CID, said: "These were two extremely frightening incidents for the people involved.
"While the weapon was imitation, there was no way his victims would have known this and Kiwele assaulted and tormented them in both attacks.
"Carrying a firearm, either genuine or imitation, is highly dangerous and there is no excuse for being in possession of such a weapon.
"Incidents involving such weapons are treated extremely seriously and Kiwele is now serving a lengthy sentence in prison where he is no longer a danger to the public."
Kiwele was arrested at an address in New Catton on the 8th April after witness statements help to identify him.