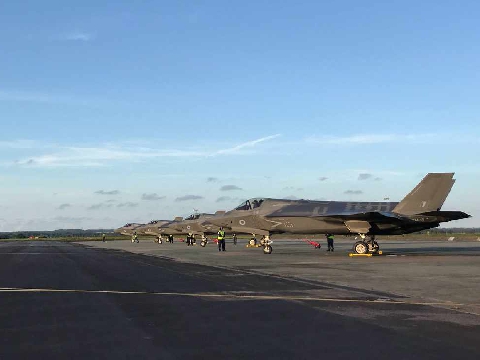 The first four F-35 Lightning fighter jets arrived at RAF Marham in Norfolk yesterday.
The stealth aircraft arrived just after 8pm yesterday evening, having flown from South Carolina in the USA.
They will be be flown by British pilots of the 617 Squadron, famous for being the squadron that carried out the Dambusters raids in World War II.
Images of the F35s' journey to RAF Marham:
. @thef35 Lightning aircraft are continuing their transatlantic #F35UK journey, supported by Voyager air to air refuelling aircraft. Watch their progress: pic.twitter.com/weqaeFecJt

— Ministry of Defence 🇬🇧 (@DefenceHQ) June 6, 2018
She's on her way, the first 4 @RoyalAirForce @LockheedMartin F35-B Lightning II aircraft are about to arrive at their new home, @RAFMarhamMedia after transiting from @USMC @MCASBeaufortSC. The transit was captured by photographers based with the @PhotoACSSU, @RAFHalton. pic.twitter.com/lfVmYrlHyi

— RAF Photographer (@RafPhotog) June 6, 2018
Britain's most advanced jets touch down on home soil. Four F-35B Lightnings arrived into @RAFMarhamMedia, their new home in Norfolk after a trans-Atlantic flight from the United States.

Read more: https://t.co/c8i7kARKSN pic.twitter.com/eOY8Nk9iTj

— Royal Air Force (@RoyalAirForce) June 6, 2018
⚡The Lightnings have landed!⚡
We welcome the F-35B Lightnings to their new home at @RAFMarhamMedia #F35UK pic.twitter.com/HayO0dFGew

— Defence Equipment & Support (@DefenceES) June 6, 2018
A proud moment for the @RoyalNavy and @RoyalAirForce this evening as the first of the UK's F35B Lightnings touch down. #F35UK pic.twitter.com/kfxI7I1ii1

— Ministry of Defence 🇬🇧 (@DefenceHQ) June 6, 2018